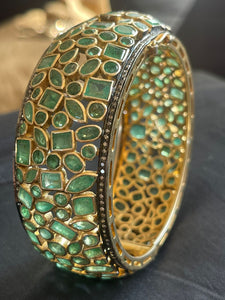 Express yourself with carefully crafted fine jewelry, each piece handcrafted with love.
My House of Fashion brings you "Custom Made Real Jewelry" from India, Rajasthan Jaipur 'The Jewel Hub'.
This handmade studded bracelet with the contemporary styling of traditional elements like semi-precious emerald stones and single cut diamonds will look absolutely stunning with any kind of outfit/color. If you want something exquisite and contemporary but also want to keep the traditional feel alive, choose this bracelet.
Learn More
Real Handmade Semi Precious JewelryJewelry
Welcome to My House Of Fashion
Get your daily dose with the exclusive fashion and luxury style inspiration updated on our fashion portal every day. We provide access to the handcrafted and handpicked products exclusively for you.